The 2018 Bay View Week of Handbells
August 13-17
Our Mission Statement
"The Bay View Week of Handbells exists to give advanced ringers an opportunity to prepare a concert to be performed at a high professional level."
About the Event
The Bay View Week of Handbells has become a destination for advanced handbell ringers from throughout the world. The intensive five-day event takes place in northern Michigan on the picturesque shores of Lake Michigan. Ringers are assigned positions in ten choirs, using sets of handbells and chime instruments ranging from four to eight octaves. The rehearsals begin at noon on Monday and continue through Thursday afternoon. The closing concert is held at 8 pm on Thursday evening and is professionally recorded and filmed. The week concludes with a farewell breakfast on Friday morning.
The Directors, Past and Present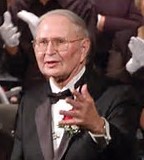 Dr. Donald E. Allured established the Bay View Week of Handbells in 1978 at the Bay View Music Conservatory. He inspired hundreds of handbell musicians who made the pilgrimage to Bay View, instilling in them the highest standards of musicianship that is a hallmark of the annual Bay View Week of Handbells concert. Don was an integral part of the event up until his death in 2011, leaving behind a priceless legacy of excellence in handbell musicianship.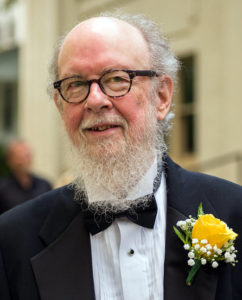 Carl Wiltse, Director Emeritus, attended the first Bay View handbell workshop led by Don and has been a part of the event every year since. In 2001 Carl received the Donald E. Allured Composition Award and wrote Creator of the Light. He took over the directorial duties in 2002, carrying on the tradition of challenging handbell musicians to reach the highest standards of this musical art. Carl served as director for fifteen years, up through the 40th anniversary of the event in 2017. He has over 100 handbell and choral arrangements and original compositions in print. He is the conductor of the Newton Stewart Singers in Wigtownshire, Scotland and Director of Handbells at The Scottish Episcopal Church of St. John the Evangelist in Dumfries, Scotland. He is a member of the American Society of Composers, Authors and Publishers, Handbell Musicians of America, The Handbell Ringers of Great Britain, the Royal School of Church Music and the Association of British Choral Directors. Carl will continue to be an important presence at the event, occasionally directing a work and leading the final choral benediction sung by the ringers. Carl and his wife Pamela currently reside in Scotland.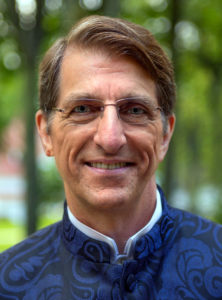 Fred Gramann assumes the directorial duties as of 2018. A native of Washington State, he holds organ performance degrees from Syracuse University and the University of Michigan. Accompanied by his wife Nancy, he moved to Paris, France in 1972 for organ study with Marie-Claire Alain and Maurice Duruflé. What was to be a nine-month stint evolved into a lifetime musical adventure in the city of light. Fred has been Director of Music at the American Church in Paris for the past 41 years where he is organist and conducts the Adult Choir, the ACP Bronze Ringers, and the Celebration Ringers. A well-known composer and internationally known conductor, educator and handbell clinician, he is frequently invited all over the world to conduct handbell festivals. He is the Honorary Associate Director of The Raleigh Ringers and director for UK Bronze which is held in Sutton, Surrey, England.
Rehearsals
To attain the highest level of handbell musicianship, all participants are required to purchase the music well in advance, mark it according to detailed performance notes, and master it prior to the event. Attendance is required for approximately 25 hours of rehearsal in the John M. Hall Auditorium on the grounds of the Bay View Association.
The requirements of all ringers are as follows:
Have a minimum of five years of experience as an advanced, bronze-level ringer.

Purchase and prepare the music up to performance tempo prior to arrival.

Be present and on time for all rehearsals.

Be able to stand at your position for several hours on multiple occasions.

Be able to memorize passages (tempo changes, page turns, etc.).

Be able to perform all handbell and chime ringing techniques applicable to your position.

Be able to master repertoire up through level 6.

Have the ability and desire to work with others in a spirit of respect and collegiality
The Repertoire
The repertoire of approximately 12-13 pieces will be announced on this website as of November 1, 2017. It is highly recommended that you consult the list to help you decide if you are capable and willing to meet the challenges involved, remembering that the music must be ready to ring at performance tempo at the first rehearsal.
Registration
There are a total of 104 ringing positions for this event.
Online registration on a first-come-first-served basis
Seventy-four positions will be available for online registration on a first-come-first-served basis starting at 5pm, Eastern Standard time, on January 1, 2018. Please note that if you register online before that time your registration WILL BE NULL AND VOID. Also note that last year all the available positions were taken within 23 minutes of going online.
Advance Registration
Thirty positions (see below for details) can be applied for prior to online registration which takes place on January 1st. Completed application forms may be sent by the post or preferably as an email attachment.
The deadline for receiving all applications is November 15, 2017.
Advance Registration
Early registration is available for:
1) Four deep pit ringers (ringing the aluminum 1s and 2s)

2) Twelve position captains
3) Twelve new participants to the event
4) One young adult ringer between the ages 18 & 30 who will receive a tuition scholarship
Four Deep Pit Ringers
Those with considerable experience ringing bass aluminum bells may apply for one of the four available positions. Paul Kingsbury, the BVWOH bass bell captain for 2018, will select the team. Any who are not selected for these positions may still register for other positions on January 1st.        Deep Pit Application ( Completed )
Twelve Position Captains
There will be a Position Captain for each of the twelve ringing positions (thus from position 0 [G3A3B3] to position 11 [B6,7C7,8]. Their sole function will be to help make practice go more smoothly during the months leading up to the event, enhancing the Bay View Week of Handbells experience for everyone. They are not there to be dictators ("Thou shalt ring this way!") but rather as coordinators. The Position Captains will communicate with the musicians ringing their same position, helping solve problem measures, and helping decide when and where to share bells when it is extremely hard to ring everything or when it is helpful to share bells with a neighbor on either side.
There are several requirements to apply to be a Position Captain. You must be:

a. an alumnus of the BVWOH, having experienced the various facets of the event
b. willing to purchase the music early, study it to find the problem measures, write out the notes (possibly on an excel spreadsheet) and communicate them soon after the position chart is issued.
c. organized and willing to respond with reasonable regularity when ringers ask questions.
It is understood that, during the event, position captains will be simply ringers among the other ringers, avoiding any impression that they have special status which would be in conflict with the collegial atmosphere at Bay View. Anyone not selected as a Position Captain may still register on January 1st.      Position Captain Application ( Completed )
Twelve New Participants
An important aspect of the BVWOH is welcoming new participants. Twelve bronze-level ringers who are new to this event will be accepted in advance from the applications which are received. Please review the requirements (under "Rehearsals") and the repertoire once it is published to insure you are fully aware of what is required and that you have the advanced skills and adequate preparation time to successfully participate.      New Participant Application ( Completed )
One Young Adult Ringer
Encouraging young adult ringers to attend the BVWOH is essential to the future of this event. For the first time, a tuition scholarship is being offered for a bronze-level ringer who is new to this event between the ages of 18 and 30.      Young Adult Tuition Application ( Completed )
Fees
The registration Fee is $225 which includes the Monday evening welcome dinner at the Bay View Inn.
The Concert
The public concert will be presented on Thursday, August 16, 2018 at 8:00 PM in the John M. Hall Auditorium, 1715 Encampment Ave., Petoskey, Michigan. It is free to the public with a free-will offering taken to benefit the Bay View Association Music Scholarship Fund. A recording and DVD of the concert may be ordered by calling Pierpont Productions at 231-347-4488 or by filling out the order envelope available during the week and at the concert.
Concert Attire
Please come with your concert wear which is BLACK. Please do not wear a dark gray, navy or faded black.
Men:               BLACK long sleeved button down dress shirt with BLACK dress pants, BLACK belt, BLACK socks, BLACK shoes.
Women:          BLACK top with three-quarter length sleeve or longer, BLACK pants (no jeans) or skirt, BLACK shoes. Please no glittery or dangly necklaces or earrings.
All Ringers:    WHITE gloves.
Music
You are responsible for purchasing the music scores needed to participate in this event (or borrow original copies). Photocopies are not permitted on the rehearsal floor.
Housing
You are responsible for securing your own housing. Petoskey's tourist season is in full swing during this time of year so PLEASE make your reservations early.
Ruth Crist Hall
The best value in Petoskey is our on-site housing. Located in historic Ruth Crist Hall (located on Terrace Avenue, Block 45), it's a short walk to rehearsals. Meals are included from Tuesday breakfast through Thursday evening supper, with an optional Friday box lunch which is only available to dorm residents. This package is available for only $205 which is less than a nights-stay in many of the local inns and hotels. However, openings are limited to the first 40 paid registrants.
How can we offer such a value? First, the Bay View Association is kind enough to allow us to utilize this valuable resource. Second, it's a dormitory. That means to make the most of this opportunity you should temper your expectations. We will do everything we can to make your stay pleasant and comfortable but you should not expect evening turndown service and chocolates on the pillows. What you can expect is a clean room, good food and great company with your fellow musicians. If you are still interested in on-site housing the please read the following information.
While northern Michigan typically enjoys an average daytime temperature in the mid 70's to low 80's, it does sometimes get hot and Crist Hall is not air-conditioned. Registrants staying in Crist Hall are asked to bring twin bed sheets, pillowcases, and towels. Please be aware that some beds are bunked – single beds are not guaranteed, even if specifically requested. Check-in time is Monday AFTERNOON, August 14 at 4:30 pm (or whenever the first rehearsal is finished). If you plan on arriving on Sunday, you will need to secure housing for Sunday evening. There are no meal-only plans available.
The dorms are not for everyone and that's why many musicians use the fine hotels, inns and rental properties available in the area. But, if the incredible value of the dorms still sounds like the option for you, then you should sign up immediately as space is limited to the first 40 reservations and they fill up even faster than registration for the event.
Cottage Rentals in Bay View Association
Contact McCune-Smith Real Estate in Petoskey (231) 347-3202, Tom Erhart, owner;
or Graham Real Estate – Cathy Meyer (231)-347-5181, cathymeyer@grahamre.com
Inns and Hotels
There are many fine hotels, inns and bed and breakfasts located in the area. Please check with a travel agency, the Petoskey Chamber of Commerce (www.Petoskey.com) or your favorite travel website.
Transportation
You can get to Bay View by car, or you can fly or bring a boat into the marina. There is even a bike trail into town! With all these options, we think you should decide what works best for you. Take a look at the map and start making your plans. But remember, they're YOUR plans and all registrants must secure their own travel arrangements.
Refund Policy
We know that life happens and plans change! Please take careful note of the refund policy.  Refunds will be paid out according to the following schedule:
Prior to March 1, 2018:          100% of all monies paid will be refunded.
March 1 through June 1:         50% of all monies will be refunded.
After June 1:                            No refund unless an extreme emergency occurs.
Bay View Week of Handbells Highlights
You will be a part of one of the most amazing handbell events in North America. Your attendance not only benefits you and your skills, it also helps two worthy musical scholarship funds: the Allured Composition Fund and the Bay View Association Music Scholarship Fund.

Monday night's "get acquainted dinner" held at the historic Bay View Inn on the Little Traverse Bay is included with your registration fee (guests are extra–depending on current market prices–payable at the door and reservations are required). You'll meet new friends and reconnect with old friends. The food is delicious and it's a great way to kick off the week.

You can shop in nearby Petoskey or Harbor Springs, drive about 30 minutes to catch a ferry to Mackinac Island, taking a swim in Little Traverse Bay, bike along the Little Traverse Wheelway or anything else that piques your interest.

Friday morning you can join us for an optional breakfast at 9:00 am at the Bay View Inn to view the concert video draft recorded by Pierpont Productions. It's a lovely opportunity to celebrate the week and also say farewell to your friends. The cost is at your own expense ($15.00/person, reservations required). You must purchase breakfast to view the video.
The Donald E. Allured Composition Fund
This award was established August 1993 as a gift to director Donald E. Allured by the attendees of the annual Bay View Week of Handbells. The intent of the award is solely to commission original handbell music that exemplifies the highest standards, quality and expectations that Don Allured would demand in an original composition. Each year, participants at the The Bay View Week of Handbells donate to the fund to honor Dr. Allured's contributions to the handbell world. Special envelopes are distributed during the week and contributions may be placed in the designated basket at any time. Cash, checks, and credit cards are accepted (checks and credit card donations are tax deductible). Please make checks out to the "Handbell Musicians of America, Inc." and write "Allured Fund" on the memo line. Gifts can also be made online: 
http://handbellmusicians.org/grants-giving/giving/funds/
In addition to monetary donations, special items have been donated and auctioned off to raise awareness and boost annual giving. The fund is invested through Handbell Musicians of America and commissions are funded 100% by interest from the principal. Twelve Allured compositions have been premiered and published, and are listed below. Almost all have been published by AGEHR and are available for purchase.
1995    Margaret Tucker: Introduction and Passacaglia
1998    Hart Morris: Antiphonal Alleluias
2000    Cathy Moklebust: Five Inscriptions
2002    Carl Wiltse: Creator of the Light
2005    Tim Waugh: LondeLirinen
(Commissioned and dedicated to the youth of     
the AGEHR 50th Anniversary Education Outreach Project
2007    Donald Allured: epilogue
2009    Michael Helman: Trilogy
2011    Michael Joy: Pavane and Galliard
2013    Catherine McMichael: Odyssey
2015    Nancy Hascall (posthumous)
2016    Matthew Compton: Divenir
(Commissioned for the Youth Component and premiered at the 2016 International Handbell Festival in Vancouver, Canada
2017    Larry Sue: Coronation and Triumphant Exultation
Any questions?  Please contact Carmen Massaro at weekofhandbells@gmail.com or
call 440-724-1072. For information about the Bay View
Association please consult their website:  www.bayviewassociation.org